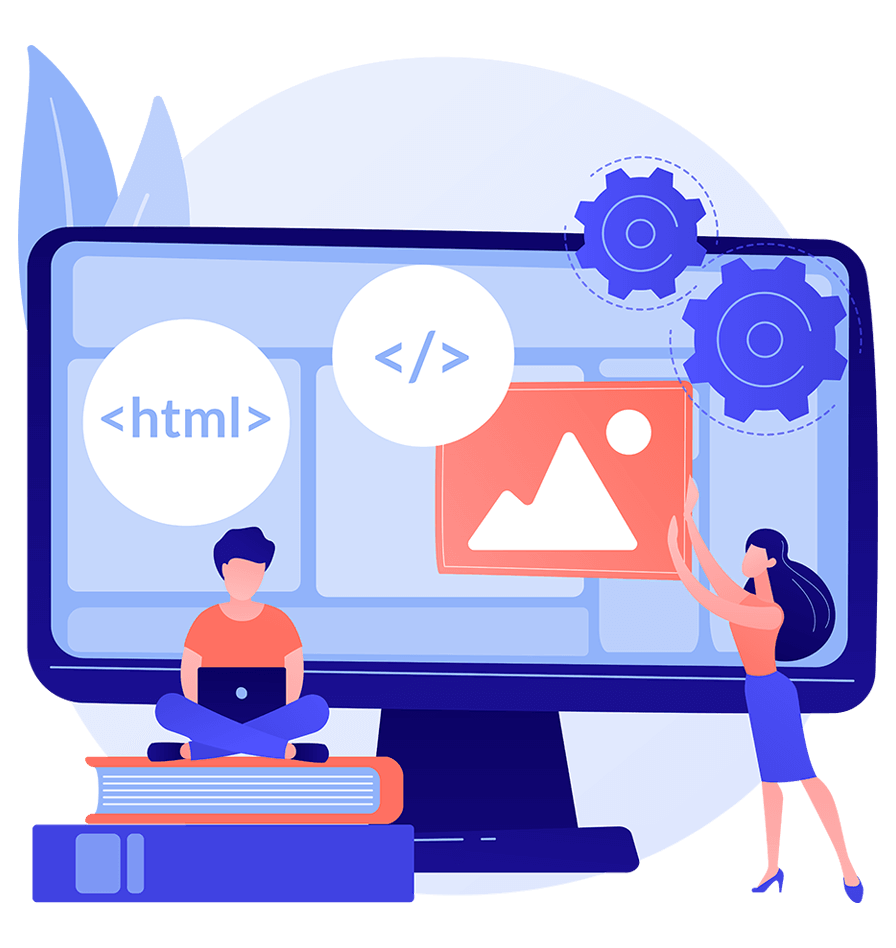 What makes us famous Website Design Company in USA
Do you want a creative and engaging web page for your start-up? Digital blocs are the right place for you. We provide you with custom web applications by our computer science experts. We make sure the front-end, back-end, and database fit your website.
Digital blocs provide you with the UI/UX for your website. We make sure the website brings high functionality and usability to the customers. We aim to build support and help you achieve the goal of your business. The digital blocs expert team makes sure that we understand the requirements of our customers. Our team comprehends the business goals and conditions to increase the revenue of your business.
We consider that our websites are user-friendly, and are accessible for everyone. We make websites that are usable for disabled people. Our areas of development are single page-Brochure Website, Multi-Page Brochure Website,eCommerce Store & Website, and directory Listing Website. If you are looking for an engaging and functional website then digital blocs are the right place. Our website development services in USA are available at very reasonable prices.
We have efficient tools and platforms to build websites that are very user-friendly and convenient to use.
We develop e-commerce websites using WordPress tools. It will help you create better business and generate revenue for your start-up.
We provide a few incentives to the admin of the website which include adding, deleting, and removing the content.
Are you looking forward to grow your firm
Our web development services in USA have few features that make them unique among the customers.
Cross-platform  Web Development
We believe that our customers get the best website that is accessible easily. The websites we create are displayed properly on all sizes of screens. Our websites are adaptive to mobiles, desktops, tablets, and pc. We make sure our websites are accessed on all the browsers and never get held if a large number of users are using them.
Web development company in USA provide a few incentives to our customers that we test all the websites on our local servers. Our test servers are used to check the progress and the analysis of your website. We test the architecture of your website. Our testing team makes sure that alpha testing and module testing are done on all the websites. The agile method is used while developing the website. Customers coordinate with our development team and provide their valuable feedback to us. We host your website on the live website once it's complete and error-free.
Learn Why Web Development Services In USA Is Crucial To Your Business.
We follow a few steps while creating the websites.
1. We take proper requirements from users.
2. We discuss the details with our team leads and the customer.
3. We get a proper handwritten proposal
4. We discover the requirements and make sure we create the most suitable websites.
5. Our quality assurance team performs all the testing on all the modules of the website.
6. We ask our clients to give their feedback before we launch their website.
Web Development Services in USA, provide high-quality work to the customers at very reasonable prices. We present websites that are adaptive for both mobiles and desktops. We use different technologies like WordPress, HTML, CSS, and bootstrap. Our websites are developed on the new framework Jango that is user-friendly and convenient to use.
Digital blocs' team believes that the appearance, usability, and accessibility of the website are very important to engage the customers. Our goal is to create amazing websites at a very reasonable price. We welcome our customers to contact us and get the best product.
Say

hello

Zdravo

Bonjour

Privét
We are here to answer any question you may have.